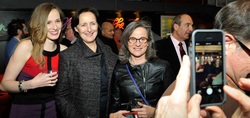 What a year. I am so happy. A tad exhausted and very very happy. This year included winning an award for the first time in my life and having a world open up to me that I didn't know existed filled with incredible people. That is the world of United Solo. It also included becoming a published playwright thanks to Indie Theatre Now.
The year included meeting some of my favorite artists including
Anna Deavere Smith
,
Fiona Shaw
,
Zachary Quinto
and
Wes Bentley
. Working with Anna was a life changing event for me. Not the Facebook kind of a life event but one so profoundly deep that it laid the ground work for the next steps of my career. Meeting Fiona at the United Solo Awards was brilliant. Tripping over myself, she was gracious and just let the "fan girl" babble roll on by. We talked about the rhythm in solo work and how elusive it can be when you are on stage by yourself. Wes was inspired and fun. Can't wait to see the scene in
Things People Do
. It's a great film and there are tons of New Mexican actors in it. Zachary was lauded in a previous post... ;-) And I got to see myself in a great role on the big screen that he exec produced.
2013 also included working with some outstandingly talented people here in Albuquerque in class at Sol Acting Academy and on my short film, Leverage.
It was a year of many visits with family on both coasts, reconnecting with friends that were never really lost (Melissa Cross, Leni Stern, Donna Airoldi, Padraic Lillis, Lee Brock, Brian Delate, Jo Johnson, Karen Perlow, and more), and meeting new heart friends from around the world. We went to Hawaii. I performed Bark & The Tree three times in NYC, three times in ABQ, interviewed rock stars and unknowns for Art of the Song and when you look at it all on one page, I am amazed that I can focus at all. Surprisingly my business and my marriage are stronger than ever. I guess that is what happens when you are in love with everything you do.
2013 also included three week long Peak Potential courses (ask me... I will tell you to attend), several acting workshops, and selling a house.
It has been a watershed year. One of tremendous personal growth in order to become the person I need to be, to do the things I am here to do. I am very excited about 2014. It seems that all along I have been waiting for some proof to anchor the knowledge that I have on the inside. As today, I am convinced.