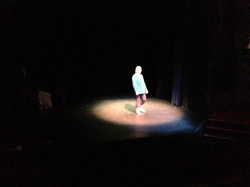 Acting is about relationships. Duh. We know that everything is truly about relationships. It's about relationships to others in the business and in our friendships and families. It's about our relationship to the sound of our own voice, the size of our thighs, and our creative expression. Our relationship to success, to failure, to joy, to our dreams. All of these relationships can be swayed by ego needs that cloud the work with judgements and expectations. Recently, I attended an audition class with artistic staff from five Off Broadway theatre companies in NYC. They were so nice. We had an amazing conversation. The funny thing was, I didn't want to go. I didn't feel prepared, my head shots were filled with staple holes. I was really tired and felt like my whole PR package was a little ghetto. But I thought, just go and have fun, do a new piece and see if they like it. I had a blast.

When my ego moves over, there is really very little for me to do but enjoy life. Seriously, it's as if I have no desire to do anything more than live a nice life. No desire to achieve anything, be seen, make a mark, leave a legacy, or even prove one single thing.

If this is what letting go of expectation feels like, then I'm very happy. I like the feeling of nothing to do, no where to be. It's rather astonishing. No more chasing, striving, driving, believing or teasing. Just me. Here. Now.

I am done. And oddly, in being done, I am open to all potential.

It reminds me of a time when my single friends and I would sit around talking about meeting The One. One woman was always saying she wanted to be with someone who was willing to meet her half way. That seemed a bit incongruous to me. If you meet someone half way it generally indicates that you are either traveling in opposite directions, or you both intend to return to your points of origin in the same state you left them. Single. One by one we realized we were actually really happy on our own. We each let go of the need to be with anyone, and began to thrive as complete and whole women on our own. And what do you know… each of us met someone. Cosmic joke, the one that is all about acceptance; an acceptance so all encompassing that it opens the heart to the joy in every moment. One by one we stopped judging ourselves and the people around us and, voila. Joy. I think we all actually became more attractive because we actually listened to people. We were done looking for something that didn't exist anyway.

It feels that way again. I am done, and now that I am done, I am actually ready. I am ready because being done gives me a foundation that is made of solid rock. Imported granite, polished by the hours of pacing back and forth in the middle of the night. Polished by hours on the meditation cushion, hours in class, and in relationships. Polished more by the rain of tears; tears of frustration, fear, regret, grief, accompanied by flash floods of gratitude and appreciation. And laughter, lots of belly busting laughter. I am done.

Don't get me wrong. I am not talking about the "I am enough, therefore I don't have to study or work out" kind of thing. The Being Done that I am talking about is being done striving to be something, so all my energy is focused in being here and now, which creates a huge source of energy. It makes me work efficiently. Being Done, allows me to be enough, just as I am, and frees me from wasting energy trying to be something that doesn't exist. It makes me want to do more and more, just because it feels so free.

So, I'm done. And just like a juicy slice of fresh peach pie, when I am done, I am DELICIOUS.