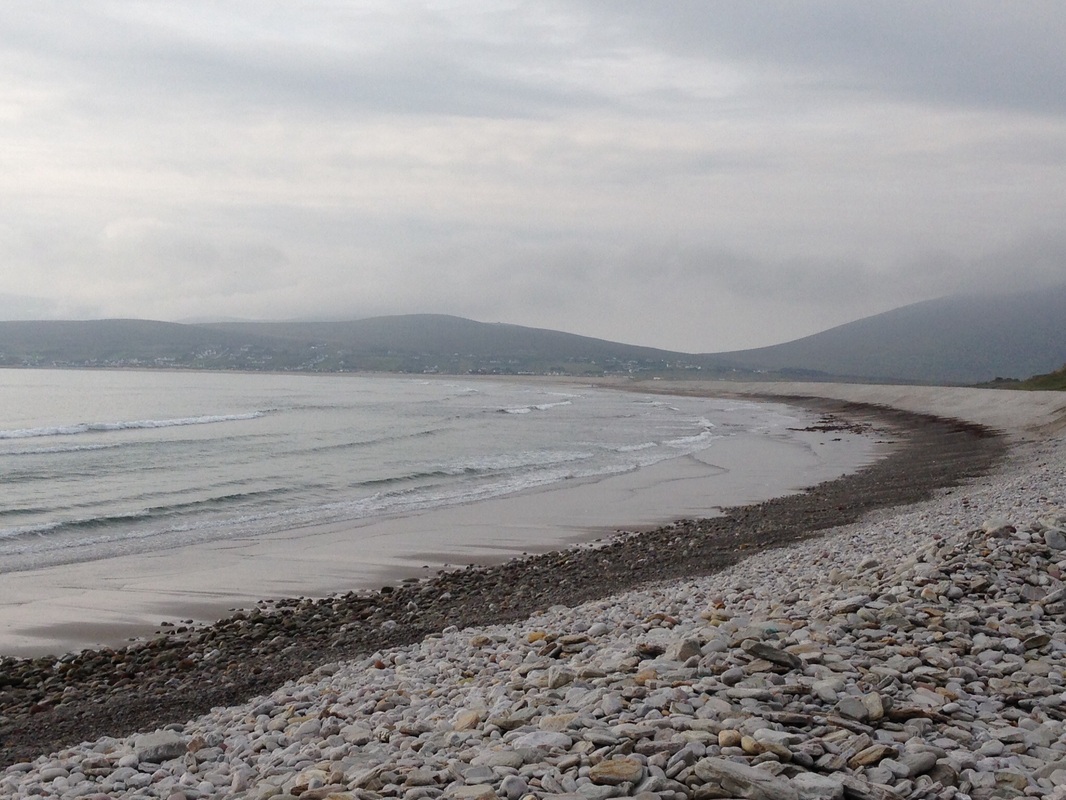 Day Four:

Got up about 7:00 am and went for a run about 3/4's of the way out to Ross Errilly Friary. A little freaky as folks were heading to work at high speed along the roadway. The shoulders of the road are made of stone walls, fuchsia hedges, ponies, sheep and cattle. Managing to get much needed mileage in on a trip like this is challenging. I have found though that running is not only good for managing the size of my butt, it keeps me sane. There is a meditative quality to it. I get space in my lungs and my spirit which keeps everything manageable.

Back at the Anglers Rest we all gradually materialized around the breakfast table and got ready for the day. Mary Jo Murphy had arranged for a tour of Achill Island, historic for our family as distant cousin, Eva O'Flaherty, had moved there and helped to found Scoil Acla - an arts and culture rival summer school. she also founded the St. Colman's Knitting Factory which gave work to women in the area, during a time when conditions were truly dreadful. Mary's book on the subject is really interesting, filled with wonderful information about the place and the people that were influential there. I begin to feel a shift in consciousness coming on, an awareness. The way I have chosen to live my life is showing signs of hereditary action, that somewhere in my DNA, there is the desire to be in the world and at the center of activities in cities, as well as the deep need to disappear to the outer most reaches of rocky places to live in solitude. In observance and response to the inner workings of my soul. As we travelled the hours through Mayo, my heart began to slow, thicken, and achieve a quietude that I can honestly say I had not ever felt. Except perhaps on the day that I knew I'd fallen in love with my husband, John. I shall remember that forever.

we were greeted by a wonderful group of young women, representing Achill Island and County Mayo tourism. After a quick pit stop for coffee & scones to go and the loo at The Beehive Cafe - where we picked up the Mini bus for the tour we proceeded to the original site of St Colmans's Knitting factory. The house is was bought in 1992 by artists John McHugh and his wife
Margaret Morrison, and there they have created a truly beautiful blend of traditional and contemporary worlds filled with whimsy, art and function. After a bit of history, we moved on to the Western Light Gallery owned and operated by the Cannons. A stunning collection of art where I fell head over heels in love with a piece of sculpture of birds in flight. It is a unique piece. One of a kind. I got within two feet of it and my heart exploded.

The next piece of the Achill adventure was to visit the ruins of a settlement at Slievemore. Our guide was amazing. He took us around several of the small homes, bringing the history alive for us in a way that was funny and mesmerizing. This part of the trip was interesting. At one point I slipped and went down flat on my back on an embankment. There is nothing more convincing that a gravity attack like that, a Bronze Age Zen slap. Pay attention. Feel. Listen up. Uninjured but definitely humbled I proceeded with the tour.

We concluded the Tourism Office's portion of the tour and were picked up by Sean and Vincent of What's On in Achill (a new App for smart phones) and Vincent (who runs a company called Achill Island Holidays). They took us to Keem Beach, and lunch at The Chalet where we were presented with platters of 12 different types of seafood all caught by the owner and prepared on premises with a magnificent hand. The passion that everyone feels for Achill is remarkable. Sean and Vincent have tapped into using Social Media in a way that creates the sense of being there. We are all planning to return, as soon as possible.

The ride home was nothing short of epic, Andrew staying awake miraculously. A speed stop at Kieran Sweeney's shop for a speed shopping spree. Then back to Headford. A quick rest and a visit to The Thatch for music, toasted cheese sandwiches and friendship. John and Mary McHugh joined us, with Paul Behan and William Buckley providing inspiration on Concertina, whistles, banjo and guitar. we all sang eventually, Caroline kicking us off with a beautiful version of The Star of County Down. Such an truly magical day closed with much affection and great music.

sleep. perchance to ... nope. no dreams. just a deep sleep filled with sea air, art, music and good company.