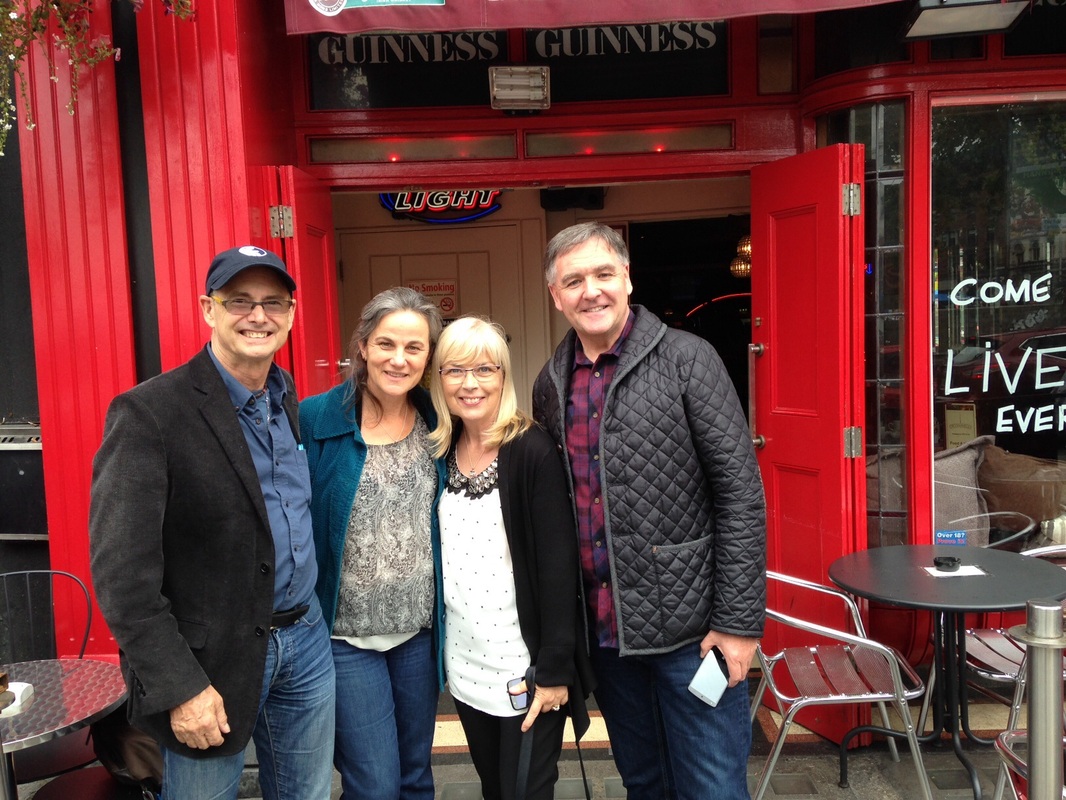 day 2, Jo and Andrew and I went for a run together. we ran to the port area and over several bridges back and forth across the River. It was really lovely. managed to keep up with them pretty easily! 3.11 miles at a really steady 12 minute mile. pretty good for me, who usually trains in two minute intervals, run/walk.

Next off get a SIM card for my phone. How liberating! I now have one for the next visit! Then on to meet Gerry and Verona Lennon, the parents of our intern at Sol Acting Academy, David. They very kindly came down from Dundalk to meet. Sitting in O'Connell's for a little bite of breakfast and tea, we had such a lovely visit. Great to hear Irish voices at last. Then off to find Sheenagh Gillen who came over from Mayo to show us some of the most precious place. we had lunch at a small charming cafe in Powers Court called the Pepper Pot. It was sublime. Very grounding to sit and discuss life and times with our new friends. Each person we met along the way has gifted me with the sense that there is truly a home here in Ireland. We threw Sheenagh (almost literally) into a cab to catch her bus back to Mayo and made our way back to Grafton St. where we listened to a fantastic Australian musician. He had a remarkable set up. Two really big dijeridoos, a guitar tree with a ukelele, a mandolin, a guitar, as Weissenborne slide and a complete sound system. He was surrounded by people. Really great stuff.

Caroline and Bob arrived at the guest house about 4:00 pm so after we all had a little rest, we sallied forth to dinner in Temple Bar at a place Sheenagh recommended called Odessa on Dame Court near the Bank of Ireland. The food was fantastic and the ambience lovely. A perfect blend between contemporary and traditional. Tasty, and tastefully done. Happily nutrified and introduced, our little band rolled back through the town to the guest house to rest up for the drive to Headford the following morning.

About this time I became completely excited. The Time to turn West was finally upon us. After a rather sleepless night filled with thoughts on what to expect and planning, we got up, breakfasted and embarked on day three!

Day three:

The visit to the car rental place was comical. We realized that even the biggest car they had wouldn't fit all of us and our luggage, which included the show bag containing Eva and all the props. we affectionately dubbed it The Body Bag. We ultimately settled on a small blue van and a tiny red car, known as The Escape Pod. John, Andrew and Bob and I navigated back the guest house to load up. We picked up the bags and shot out of Dublin west for Galway, narrowly missing the worst of rush hour traffic. The highway, while very efficient and time saving, is a rather sad way to cross Ireland as you miss so many beautiful towns and history. But we had a schedule to keep as rehearsal was at 2:30 in the Hall at Headford. So off we went at high speed crossing the expanses of farmland and rolling hills, Andrew helming the van and Bob at the wheel of the Escape Pod.

We arrived in Headford and just like 22 years ago, we pulled in to the Anglers Rest Hotel. Only this time I was not filled with fear and loneliness, but love, laughter and anticipation. We were given three rooms in a row at the top of the building with dormer windows that look out over the crossroads. If you look carefully you can see the mountains of the Connemara in the distance. Then it was down to the lounge of the pub for lunch. So fun to look in to the very room where the first scene of the play takes place. The phone box is gone now though! Lunch was lovely. I had a delicious vegetable soup, tea and brown bread. In the West the tea is better and the brown bread too. I got picked up for a photo shoot at Ross Eirrelly Friary by a lovely journalist named Fiona Clare. Turns out she is actually from Los Angeles. Her grandmother lived near Headford and she fell in love with Loch Corrib, and moved lock stock and barrel, ten years ago. The photos were amazing and she wrote a really lovely article for the Solas on line zine.

Fiona dropped me back at the hotel just in time to meet Anna and Kevin McHugh, our hosts. what a lovely reunion. We walked over to the Hall for the load in and first rehearsal. It was much closer than we thought so we left the cars and walked with the Body Bag across the street. Then it began in ernest. The next people we met were Mary and John McHugh. Mary is an extraordinary actress who has not only worked at the Abbey, but has also won Best Actress Award in Ireland for her work. John's father was a local historian, who loved Eva and wrote the definitive text on the Friary. He gave me a huge hug, saying "it's not every day you get to hug a piece of History." They all had been working so hard on the staging, putting up black flats, painting them all, taping the joins, hanging lights, sorting out the sound, the light board, gobos, everything. Paddy Joe and Michael, plus the woman who tends the hall, all of them were turning themselves inside out to make the place beautiful. which it was indeed. The depth of the wooden floors and ceiling made for a natural reverb that was rich and warm.

we met Mary Jo Murphy and her daughter Minette. Mary Jo is the historian for Eva of the Nation's cousin, Eva O'Flaherty who was actually born and raised at Lisdonagh House. Her father being Eva O'Doherty's uncle.

Caroline was able to finally put face to all the players in this story that is Headford. We were all treated like family. She brought Eva and Kevin's rings and sat in the lobby laughing and listening to the Ladies, as they regaled her with stories and questions. It was wonderful to reconnect with Brega Webb another history buff who wrote a dissertation on Eva O'Doherty. She came to visit for a little while and we got caught up in the lobby during a break. after realizing what we needed to get accomplished we scheduled the next time in the space for Friday. Rental lists were made and off we went to have a little rest and get changed for supper at Anna & Kevin's. John and Mary picked us up and off we went for a "light repast." What we had was a banquet. Chicken Cordon Blu, trifle, salads, incredible. And laughter. Such laughter. it was taking a little time to get my ears tuned to the language differences, but after a while it just didn't matter. It was really great to see Caroline and Bob enjoying the conversations. Jo and Andrew didn't join us but went to the pub for dinner to celebrate Jo's birthday.

Then to bed. Ah bed, much needed bed.