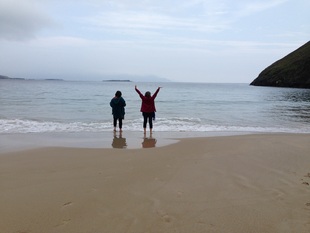 How Big Is Your Pond?

I recently performed at a festival of women's solo artists. What an honor. It was in a small town in Pennsylvania, at a theatre company known for it's cutting edge approach to theatre. The founder had taken one of the greatest risks an artist can take and gone out on her own, leaving a cushy university job near a major market, to start a company in a rural town that had no tradition of theatre. This was the moment of a lifetime for me, to perform on this stage. And I was excited to attend the four other shows to not only support but learn.

Other performers included an internationally acclaimed comedienne, trying out a new form. She was taking a huge risk, sharing a side of herself that she never shares on Comedy Central or her USO tours, bringing levity to our troops overseas. Another was a woman who's work stands out as some of the most cutting edge, creative physical storytelling I have ever seen. Then there was the cabaret act. While well performed, there was something inaccessible to the work for me. I loved the music, which was expertly delivered, technically. It was in the talk back after her performance that I heard her soul echoing off The Wall of Self-Conscious Fear. When asked what it was like performing that night she replied "I love being a Big Fish in a Little Pond. I am from New York and this was so refreshing."

Big Fish. Little Pond. My toes curled up and I felt my skin get too small suddenly. I saw her shrink back from her own words as they echoed out into the room. A room filled with dedicated, educated theatre goers, a few New York transplants and a staff that rivaled any Broadway house.

Big Fish. Little Pond. A bolt of identification shot through me. I could tell that no matter who was in the room, whatever the circumstance, where ever she goes, she will have to shrink the size of her pond to fit the size of her self-esteem. And in that instant, I understood that the size of our pond is directly relational to the level of our self-respect and ability to connect honestly with the people with whom we are sharing our work.

In the not too distant past I suffered intensely from a sense of being "less than" and allowed my low self-esteem to be in control of how I showed up in the world. I could only play small. Over time, I learned from others that self-esteem comes from doing esteem-able acts. Confidence comes from showing up, taking risks, failing sometimes, succeeding others, and doing it again and again and again. Repetition brings me knowledge of what opens me to greater love and joy. That knowledge gives me confidence. Over time, my vision has cleared to see that every pond is HUGE, if I choose it to be. Personally, I love being a small fish in a very big pond, because I have room to grow.

Back to the artist in question. Interestingly, her cabaret was all about self-acceptance and opening to love. So I know for sure that this particular performer will be swimming in an ocean the size of her considerable talent very soon. She will sing herself into right size and no matter where she performs she will realize that she is surrounded by brilliance everywhere she goes. While I am not a Bible person, I love the line in Hebrews: "Do not neglect to show hospitality to strangers, for by this some have entertained angels without knowing it." Choose to see angels, and you will see angels. Your pond, puddle or ocean, will become an unlimited expanse of creative potential.

Choose limitless, and you'll always be right sized.