---
Vivian Nesbitt ~ Press and Reviews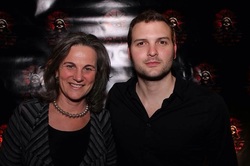 Regarding her work in
Banshee Chapter
"Vivian Nesbitt is one of the most talented and intuitive actors I've had the pleasure of directing. Every scene with her brought an incredible commitment and nuanced performance. Whatever that 'thing' is, that magic that captures the audience's full attention, she has it. In spades." Blair Erickson ~ director/writer
---
---
March 8, 2014
New Article from the Connacht Tribune (Ireland) about the upcoming tour:
---
---





Excerpt of a review of The Bark & The Tree, November 2013 The Irish Voice/Irish Central
by Cahir O'Doherty
"
Onstage Nesbitt grapples with the past, the Irish present and the often conflicting desires of the Irish American experience. Keeping these three narratives in sync requires a careful hand, and Nesbitt is equal to the task. Part of the pleasure of "The Bark and the Tree" is watching Nesbitt contend with these disparate narrative strands. She intuitively understands where the gold is and goes directly to it ... with a facility that undercuts the sentimental portrayal of Irish American heritage seekers.
"Sometimes you have to understand your tribe's story to make sense of your own. Nesbitt shows us how a nation in crisis, and a culture facing into dissolution, can flounder but eventually gather itself up, take stock, express its journey in words to make sense of itself and the road ahead.
"Nesbitt's story is her ancestors' story, and it's Ireland's story too. In Ireland it is said that we all live in each other's shadow, and the truth is we all live in each other's stories too.
"The Bark and the Tree" explores how far we can range from the stories that have shaped us, but it also reminds us that we can find our way back, and in doing so add to the story, and possibly even uncover a happy ending."
Read more:
http://www.irishcentral.com/IrishVoice/Vivian-Nesbitts-play-traces-her-ancestors-life-in-The-Bark-and-the-Tree-233649511.html#ixzz2ozwy4Aoe
---